Mobile is taking an ever greater role in customers lives! All Mobile tools are key assets of a mobile strategy, but Mobile Wallet Passes have been gaining their momentum.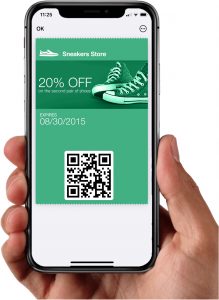 Apple Wallet Pass
"Mobile is one of the key assets that helps drive store growth. It allows to better understand and help our clients. It's only going to strengthen the store experience, especially if you focus it and have the right mobile experiences to supplement the in-store experience."
Mobile Wallet Passes are a great solution for companies to implement as part of their mobile strategy, being highly cost-effective and time-effective, while improving customer experience across all touchpoints and driving engagement.
Here are 10 reasons why every company needs to implement Mobile Wallet Passes as part of their mobile strategy.
⇒  Take advantage of native Apps
Reach prospects that don't have your App installed through Mobile Wallet Passes in native Apps, such as Apple Wallet and Google Wallet. Build programs that "live" inside your customers smartphone.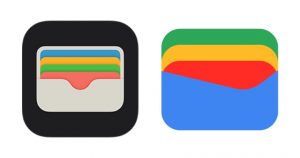 ⇒  Don't depend on the App stores approval process
Approval processes mandated by App stores are long process on the launch and an ongoing to maintain an App. Mobile Wallet Passes enables to be inside your customer smartphone in seconds in an easy process.
⇒  Easy to install a Mobile Wallet Pass
A Mobile Wallet Pass can be easily distributed by sending and email or an SMS with a url link, by printing or embedding a QR code on a paper or website, or even sending the .pkpass file as an attachment.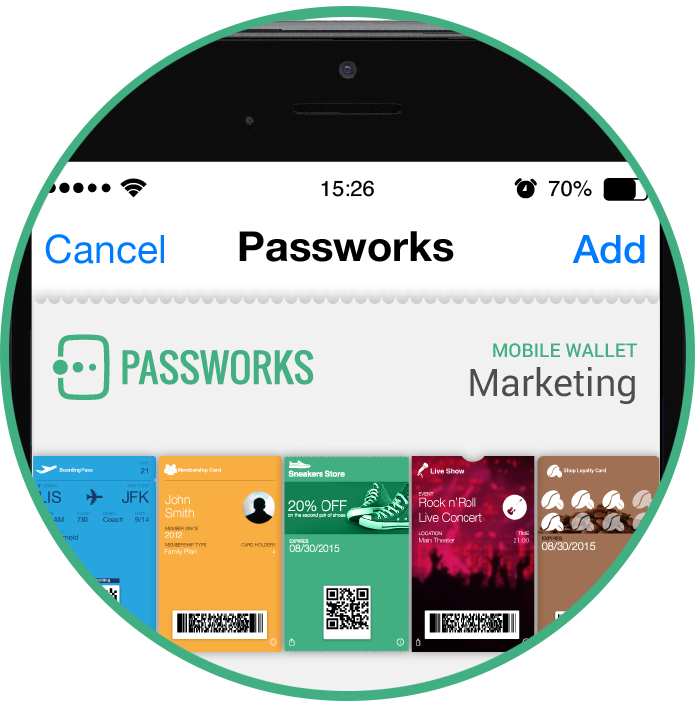 ⇒  Build a single Wallet Pass compatible with both iOS and Android
Passworks mobile wallet platform enables companies to design and built a single Wallet Pass that is compatible with both Apple Wallet and Google Wallet, and can be install in a unique link.
⇒  Mobile Wallet Pass content can be updated in real-time
With real-time multiple content, value and look & feel updates, you have the opportunity to establish an on-going conversation with your consumers, in order to keep them always up-to-date.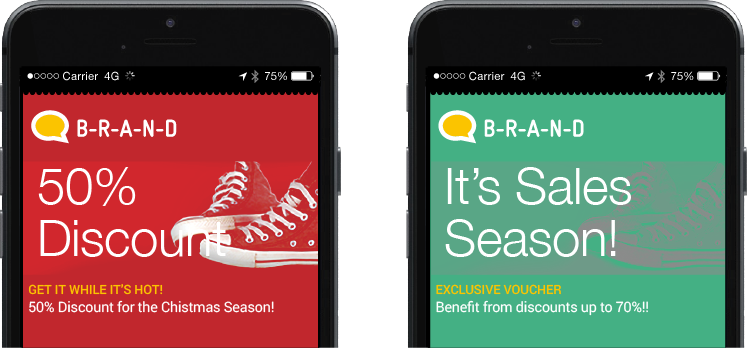 ⇒  Send Push notification with automatic lock screen access
Mobile Wallet Passes make it easier to reach with your customers directly on their mobile lock screen. Engage in a convenient and relevant way: send messages to promote offers, make reminders and inform updates directly to your consumers' smartphone, giving you the chance to be on your consumers' top-of-mind.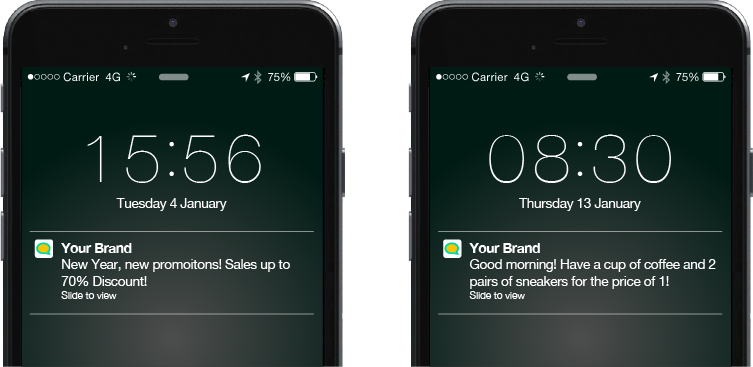 ⇒  Trigger location-based notifications
Take the advantage of the location-based technology by defining geo-based and beacons-based messages which will be triggered when passing by your store or a specific and strategic location.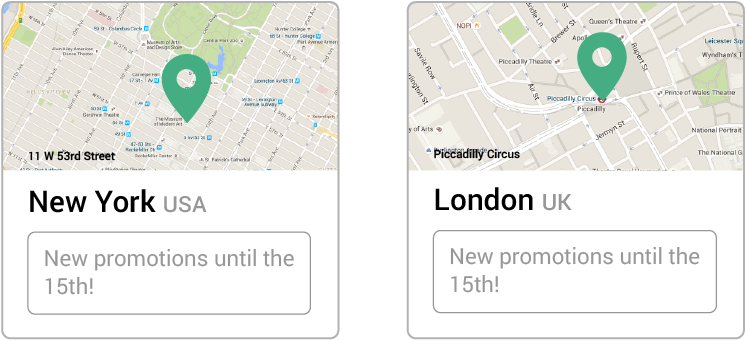 ⇒  Cut down on development time
With Passworks "do-it-yourself" platforms, companies can design and build a Mobile Wallet pass in minutes. Even for more complex functionalities, Passworks team is available to provide all support need to launch a Mobile Wallet campaign easily. Compare this go-to-market speed to the 3 to 12 months that can take to build an App.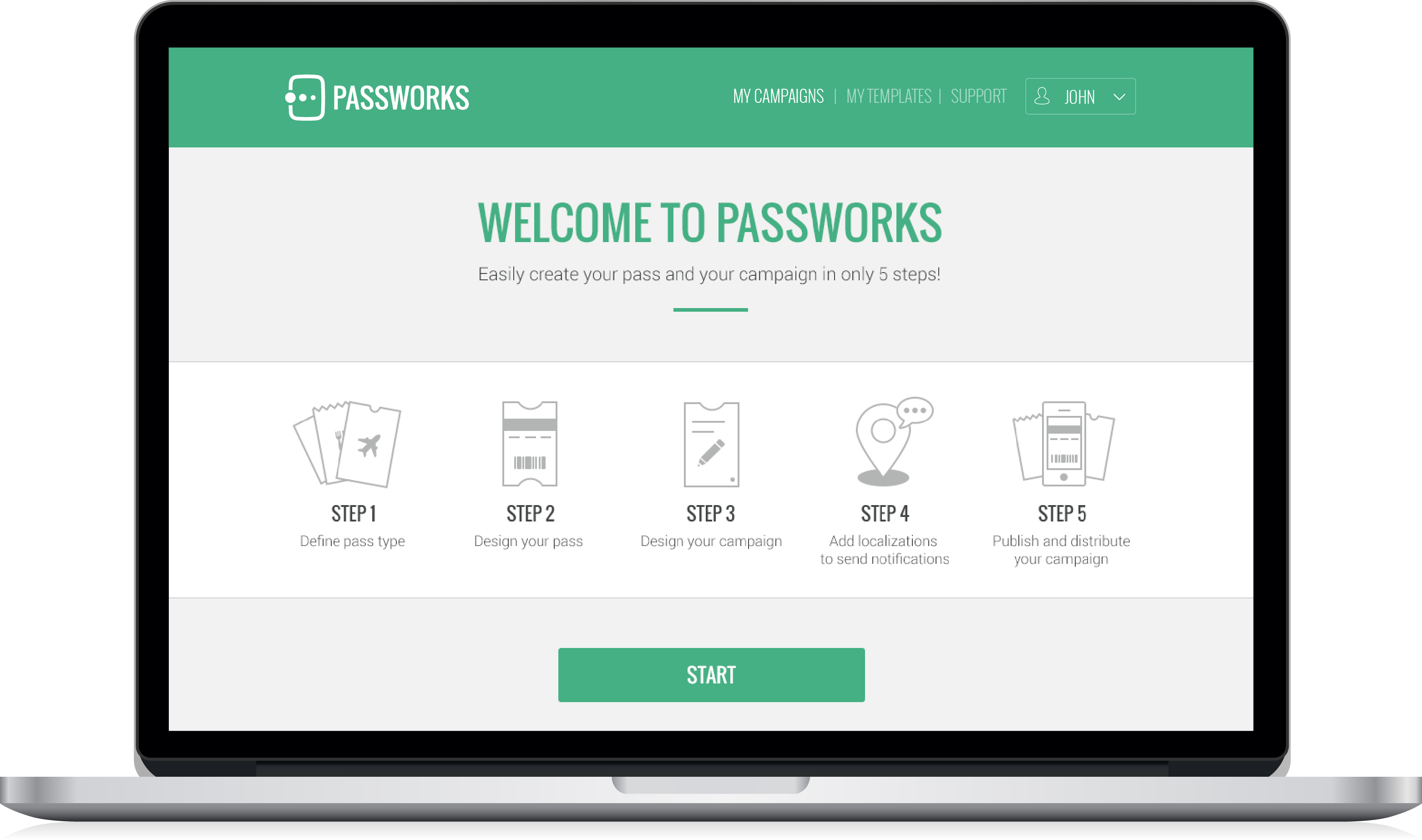 ⇒  Reduce development costs
Developing an App can cost your business anywhere from 20k€ to unlimited. On top of the initial development cost, there is an annual maintenance cost of around 25% of the initial cost. On the other side, Mobile Wallet passes cost a fraction of the App development cost and has a high level of engagement and retention rates.
⇒  Free up mobile storage space
Smartphone users constantly find themselves looking to free up space, and think of which App to delete. Each App takes up an average of 34 MBs on your phone, while Wallet passes is less than 10 KB. Users are much less likely to delete a Wallet Pass than an App.
Additionally, Mobile Wallet Passes are also a driver to companies digital transformation, eliminating paper coupons, replacing plastic loyalty or membership cards, and reducing their carbon footprints. On top of being highly cost and time effective, Mobile Wallets Passes provide an amazing customer engagement experience and delivery value to the brands.
Want to know more about Mobile Wallets Passes and Passworks? Contact us today and let's talk!