Mobile Wallets offer benefits to all stakeholders, both customers and merchants, by bringing to live mobile payments with enhanced security features while allowing a faster checkout, but also enhancing loyalty solutions.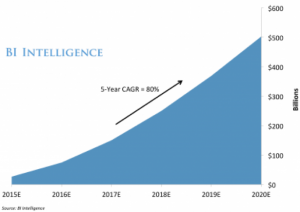 Forecast US mobile in-store payment volume (Source: BI Intelligence´s 2016 Mobile Payments Report)
As expected, in-store mobile payments are growing and recent estimation finds that it will reach $75 billion this year and $503 billion by 2020.
Nevertheless, mobile payments still face some high barriers, but as loyalty programs are integrated and more consumers rely on their mobile wallets, adoption and usage will surge over the next years.
Consumers want more from their mobile wallets. The inclusive mobile wallet with features and services, on top of just debit and credit cards, is very appealing to consumers.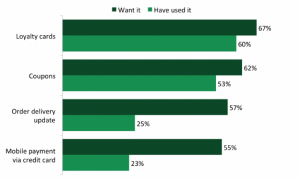 Top features consumers want for Mobile Wallets (Source: Urban Airship Report – UK and US Adults Q2 2016)
Loyalty or store cards and coupons are among the most desired features for mobile wallet users. 60% of users have used a loyalty card through a mobile wallet, and there is a high demand with two-thirds of users wanting to. Coupons, like the loyalty programs, are the second most desired feature with 53% claiming that have used them and 62% of customers wanting coupons on mobile wallets.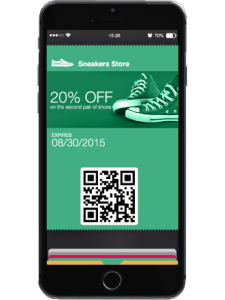 Apple Wallet mobile coupon
Integrated marketing tools such as loyalty programs and other add-on feature are key to drive mobile wallet adoption and usage. Consumers are showing interest in wallets with integrated loyalty programs.